13-09-2012 - ICE ci ha lasciato.
Non avrei mai voluto ricevere questa e-mail. Quando ho letto mi si è fermato il cuore!!!!!!! Ice il nostro meraviglioso cane con gli occhi di ghiaccio ci ha lasciato. Non potro' mai dimenticare il grande amore che ci ha unito.
Non potro' mai dimenticare la sua storia.
Mentre scrivo ho solo tante lacrime, tante lacrime. Ice ti portero' sempre nel mio cuore ed auguro a tutti i cani chiusi nei canili di avere la fortuna che hai avuto tu: sei stato tanto amato!!!!!!
Ecco l'email ricevuta:
Dear Cosette,
today I have bad news...i´m sitting here with tears in my eyes and try to find words, words to send this message to you.
Since 10 days I try to write you this mail .. :((
I lost my best friend. Since one week ICE feels not well. We visited our Veterinary and we can´t find the reason for this.
ICE was every minute by my site and I do all things to make him better..
The night from thursday to friday he sleeps in my arms and I talk so mutch with him. He looks me al time in my eyes..
Fridaymorning he stand up and walked out, into our garden. He drinks his water and played with it, he enjoyed this game..
Then he looks to me and I know in this second, he will go over the rainbow now ....
ICE died at 31. August 2012 in my arms
I love him so mutch!! and he is always in my heart. I know I see my ICE again ..
kisses and hugs from ICE and Astrid
Grazie Astrid, sei stata una mamma splendida, ti voglio bene.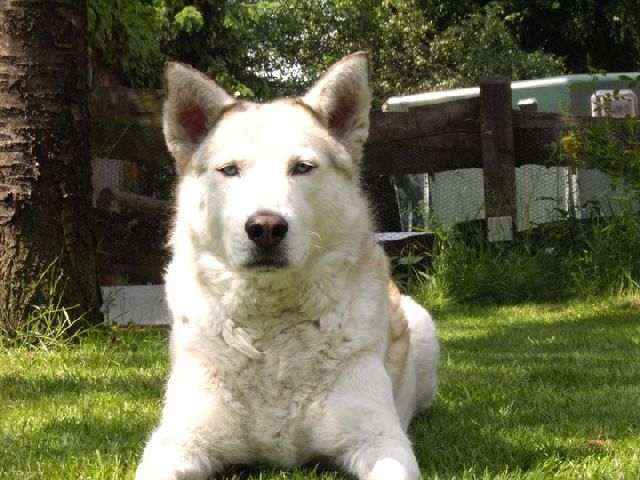 27-08-2012 - Abbiamo ricevuto i saluti di Ice.
Ice è un cane meraviglioso con una storia terribile alle spalle, una storia che ha tenuto molti di noi con il fiato sospeso.
Dopo tante disavventure ed un intervento alla colonna vertebrale, Ice torno' a camminare e venne adottato in Germania, nel 2006.
Ice oggi ci manda i suoi saluti, ecco cosa scrive la sua meravigliosa mamma:
Dear cosette :)
Today i will send you a new picture from ICE and his
beautriful blue blue eyes.
ICE is very well and looks like a young
dog. He stands the whole day nere my and we spend a good time together
We send you many kisses and greatings from germany!!
ICE and Astrid

Ice grazie dei tuoi saluti, quanto vorrei abbracciarti ed a te Astrid dirti grazie per questa meravigliosa foto. Queste sono le cose importanti per noi: la felicità dei nostri ragazzi!!!!!!!!!!!!!!!!!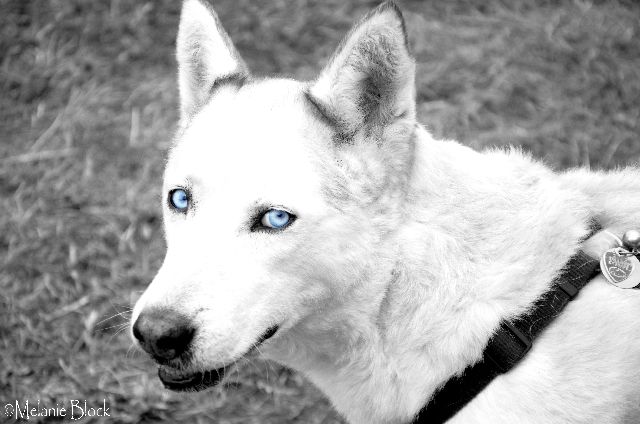 20-03-2012 - Uno dei miei grandi amori. ICE , fu il primo cane che operammo alla colonna vertebrale ed adottato nel 2005 in Germania
Anche oggi è stata una di quelle giornate no, ma lo ripeto, ci sono loro i nostri dolci e meravigliosi ragazzi che se anche adottati lontano sono sempre vicini a te, con il pensiero.
Oggi ho ricevuto la foto del mio grande amore , un amore profondo ci ha legato, ICE, adottato nel 2005 in Germania, oggi la sua mamma mi ha mandato questa bellissima e mail:
Dear Cosetta,
a good friend from you will send you many kisses and a BIG hug !!!!love and kisses from ICE and Astrid
Queste sono per noi le piu' belle energie. Grazie Ice sei un amore grande
Clicca sulle foto per ingrandire!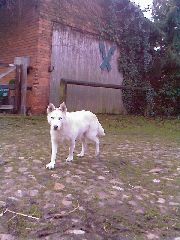 08-04-2009 - Carissimi Amici V i ricordate del mio grande amore?
Lui era stata adottato nel 2005, la sua storia terribile colpi molte persone, noi per lui andammo persino a Cagliari per operarlo alla spina dorsale, ed il nostro grande amore quando si fu ripreso fu adottato da questa meravigliosa creatura. Eccolo il nostro grande amore.
ICE il cane dagli occhi belli.
La sua mamma ecco cosa scrive:

Dear Cosetta,

thank you for your mail. It is for me not possible to read and to write the italian langueg.
So I will try to write in englisch.. :)

ICE is very very very well :O)) he is a little bit older now but very young in his hart!!
He plays the whole day with MEXX and Anton (Antares). They are a very good team.

He can go upstairs with me and is allways by my side. Each time I get the key of the car he will come with me :O))

I will try to make a lot of pictures the next days. My daughter will give me her kamera.

Now I send you a quickshot from my mobilephone today and hope it makes you happy :O)

A lot of hugs from ICE to you. I know he never will forget his
Cosetta!!!
Kind regards
Astrid and ICE

Clicca sulle foto per ingrandire!
| | |
| --- | --- |
| | |
| | |
| --- | --- |
| | |
| | |
| --- | --- |
| | |
| | |
| --- | --- |
| | |
31-05-2007 - Vi ricordate di Ice il "cane dagli occhi belli" ? Abbiamo ricevuto le nuove foto, se penso a quante lacrime abbiamo versato per lui e vederlo cosi' felice e bello il nostro cuore non puo' che gioire. Caro Ice, piccolo nostro grande amore, non potremmo mai dimenticare cio' che sei stato per tutti noi, la tua voglia di vivere e la grande lotta che abbiamo fatto tutti per vincere " la scomessa" e la partita l'abbiamo vinta. Grazie Ice ,oggi ci hai regalato una bella giornata, i tuoi occhi sono sempre belli, in fondo tu sei e rimarrai " il cane dagli occhi belli". Le tue tate..
Dear Cosetta! Many hughes from this beautyfull Dog
I made the pictures this morning and ICE sent many, many greatings to all lovely
People he knows.
kind regards
Astrid and ICE

Clicca sulle foto per ingrandire!
Aprile 2006, buone nuove di Ice, mentre gioca nel giardino....